As teachers, we are "life-long learners", and as students, we expect to be graded…
So it is with our workshops.
And our grade is generated by a form required by the Illinois State Board of Education:
"EVALUATION FOR WOKSHOP, CONFERENCE, SEMINAR, ETC."
___________________________________________________________________________________________
Please answer the following questions by marking the scale according to your perceptions of the professional development activity.
This activity increased my knowledge and skills in my areas of
certification, endorsement or teaching assignment.

The relevance of this activity to ISBE teaching standards was
clear.

It was clear that the activity was presented by persons with edu-
cation and experience in this subject matter.

The material was presented in an organized, easily understood
manner.

This activity included discussion, critique, or application of what
was presented, observed, learned, or demonstrated.
This needs to be filled out by each participant before we can provide their CPDU's.*
We've both been known to have a few "control issues" and we tend to lean a bit towards perfectionism. Therein lies the problem…
We want all "A's".
 Our biggest stumbling block is #2. 
As teachers, we have heard about our state standards over and over and over and over again…
     *In workshops
     *In conferences
     *In committee meetings
     *At board meetings
     *In classes we have attended
We have had to consider them
     *as members of textbook selection committees
     *in our lesson plans
     *when aligning our district curriculum
     *when considering state testing
And here we meet them once again as presenters.
So we address them…while trying to keep our workshops both informative AND fun… (Refer to our logo.)
Sometimes we cannot get straight A's on #2….because…
They are not easy to understand? They are not fun?
Trust me; we TRY to connect what we teach to the relevance of our State Standards.
And we TRY to make the connection "fun".
And even while "trying", our participants will often sit with blank looks on their faces when the topic shows up on the screen in front of them…
We provide access to all of the State Standards.
We explain that technology standards for the State of Illinois DO exist.
We tell them to include them in all of the grants they write.
We even provide online copies for them and encourage them to "copy and paste" them whenever they feel the need.
And yet, at the end of the workshop, #2 is the "gold ring" we can't seem to grab.
Until…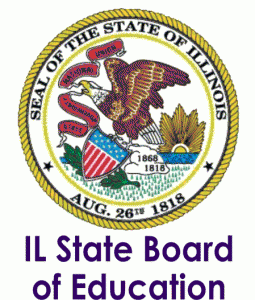 The day we forgot to include any reference to our beloved state standards.
THAT was the day we finally received "Straight A's".
We have come a long way since our first workshops.
We have learned that sometimes it isn't always "us".
Sometimes our attendees are having a bad day, too,
and we have accepted the fact that we just can't please everyone all of the time.
 *CPDU – Continuing Professional Development Unit: a measurement used in continuing professional development to award credit for participation in a broad range of activities, including action research, staff development programs, curriculum design, mentoring, supervision of a student teacher, workshops and seminars, etc. CPDUs generated by workshops, seminars and conferences are earned at the rate of one for each hour of participation. Such a workshop or seminar must be offered by an approved provider.