The Lemonade War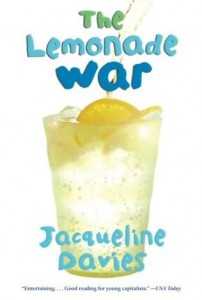 10.) The Lemonade War by Jacqueline Davies
AR Level – 4.1
Points – 4
Interest Level – Middle Grades
One of Mom's and my favorite saying is "It isn't how smart your are…it is how you are smart."  That is perfect tie-in #1 to this book.  Evan who is getting ready to begin 4th grade is smart.  People-smart.  He is good at making friends, reading people, talking with adults, and knowing when the girls in his younger sister's class are not being nice.  His younger sister, Jessie, on the other hand, is also smart.  School smart.  She can easily do math problems in her head, write poetry, and read fluently.  So much so that she is skipping third grade and entering 4th grade right alongside her brother.  She is excited…he is not.  However, since Jessie lacks the necessary skills to figure people out, she can't understand why her brother is annoyed with her.  They maintain a very close brother-sister relationship and are even more protective of each other since their parent's divorce.  So why IS Evan annoyed with Jessie for being in his class? 
Evan is not good in school.  At all.  He can't figure out math and is the slowest reader in his class.  He is terrified the other kids will think he is even dumber now that his super-brainy sister will be shining as the smartest girl in 4th grade even though she is suppose to be in 3rd.  But he doesn't tell Jessie this and she is not socially smart enough to figure it out on her own.  What results from this end of the summer conflict is a brother-sister war.  They have decided to challenge each other to a Lemonade Stand War.  The last days before Labor Day are scorchers and whoever can sell $100 worth of lemonade first is the winner.  Winner takes all.  All the money that is.
The second perfect tie-in for this book is the cross-curricular connection with math.  The author does a fabulous job of integrating math problems with which kids can identify.  Most students have had a lemonade stand at some point in their lives or have wanted one.  These real-world math problems are great lead-ins to solving story problems.  I love that!
This is a great book with not one swear word…yahoo!  It is very current with popular phrases such as "oh snap".  I think my 4th graders will love it.  Make sure you take a look at the book's website.  It is fantastic. http://www.lemonadewar.com/
Book Reviews