The Key to One of My Biggest Problems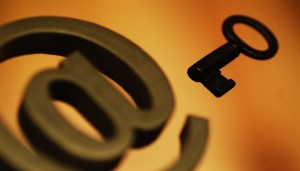 As a 4th grade teacher I stumble across one problem again and again throughout the course of the school year.
How can I allow my students to use some of the web 2.0 tools that require a registration with a valid email address?
There is the gmail trick where you can add the + sign and set up the filters.
(A little tedious in my honest opinion.)
Today I discovered another way to involve my students without the hassle of them not having individual email accounts.
You see, I have my own domain name purchased through Go Daddy (very cheap by the way).
It is www.mrsssmith.com and is the address of my classroom website.
Looks can be deceiving.
I don't pay any hosting costs since the site is actually stored on our school district's server.
I just point that address to my school district issued webspace.  It has a really funky address that is hard for my fourth graders and their parents to remember.  It is something like http://localweb.k12.il*morewordsandsymblostofollow.htm.
Anyway…my point is coming, bear with me.
Once you purchase a domain name from Go Daddy, you are given a free email address with a web mail server on which to check it.
When you are setting this free email address up, you can check a box that makes it a "catch-all" inbox.
What does that mean??
It means that I can give each of my students their own email address this year…sort of.
Let's say that Sally is in my class.  I can tell her that her email address is [email protected]and if someone sends her an email, it will go to MY inbox!
So…with that being said…do you know what that means?
They can each register for different web 2.0 applications (under my guidance and discretion of course) with their real/fake email address! Woohoo!
I will keep you posted on this actual application.  Right now I just have it in my head that it will ACTUALLY work.  But honestly…I think it will!
tips