Diamond Willow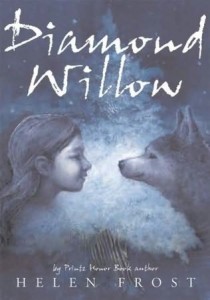 AR Level – 4.3
Points – 2
Interest Level –Middle Grades
Ok.  It is official.  I may have a new favorite book.  I love, love, love this one.  Diamond Willow by Helen Frost touched my heart.  Actually it reached out and stole it.  12 year-old Diamond Willow lives in Alaska with her parents, brother, sister and Alaskan sled dogs.  She wants to learn to "mush" independently to visit her grandparents.  Her parents don't think she is old enough.  Classic case of child wanting to grow up even though his or her parents are not really sharing the same interest. 
How is this book different?  Why do I love it so much?  It is original in the fact that it is written almost entirely in diamond poetry format.  Not "Diamente".  It is really free verse that ends up being shaped into a diamond.  The originality comes in the bolded words that stand out in each poem that gives the reader a hidden meaning in the poem.  I can't wait to incorporate this style of writing in my classroom.  I can't wait for the kids to read about Diamond Willow.  And I especially can't wait to hear their thoughts on the different points of view coming from Diamond's ancestors.  You see, they have all been reincarnated as some type of animal that watches this story unfold.
Plus…it is about a girl and her dog.  Seriously, I think I am in love…with this book…and of course, Buddy the Dog.
PS: As a side note I am trying to decide how to handle one line in one poem of the book.  I wish it weren't there.  Suggestions?  It goes like this, "How do little kids learn all the things they're not supposed to talk about?  Poop and farts and sex, Uncle Henry's drinking, Mom's gray hair?"  That is the ONLY questionable content in the book. Ugh, how I truly despise "questionable content" from a teacher's perspective!
Book Reviews