Ice Ice Baby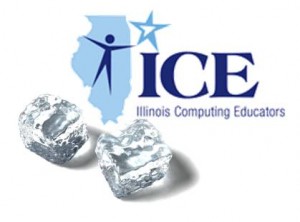 Who knew I would ever really have the opportunity to make a Vanilla Ice reference in a blog?  I guess being invited by Nadine Norris to host two sessions at the Ice Cold Mini-Conference in Lisle, IL made it feasible.  A couple weeks ago Mom and I had the privilege of presenting our first professional development session in "The Burbs".  We were both excited and nervous all wrapped up in one.  When my husband asked why that was the case, I told him it was because I was worried that our downstate, rural, small school ideas would be old hat in the big city.
(Were we two "chicks from the hicks"?)
After getting up in the wee hours of the night (4:30) and driving by way of GPS (as not to repeat our trip to Raymond/Panhandle) we found ourselves digging through the ashtray for change to pay tolls.  What is with tolls anyway?  We sure don't have anything like that anywhere around here, unless we count the Lion's club periodically standing on the corner of our busiest streets to collect our spare change.  I guess the tolls are a way to remind me to appreciate small town living.  It worked, because just as soon as I was able to muster up enough change and get back in the lane I needed, I had to veer right again to repeat the process.  Note to self (and Recess TEC):  Invest in an I-Pass if we start getting more work up north. (And I hope we will!)  The GPS took us right to the front door of Lisle Junior High School, and after several small, but manageable bumps in the setup process, we were ready to present.
As it turns out I couldn't have been more wrong.  Now don't misunderstand, I am not crazy about being wrong, but in this case I was thrilled!  We presented "10 Ways to Shake Things Up" using technology within the classroom.  We have presented this session on several different occasions and it is funny how it always ends up getting tweaked so that it is rarely the same 10 things.  I guess you could say that Recess TEC also likes to "Shake Things Up" since we are in a constant state of revising our sessions.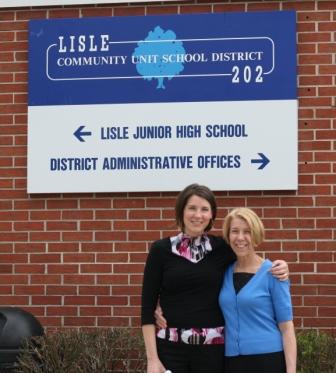 The participants during our sessions were delightful.  It was fun to see so many of them taking  notes and asking  questions about our ideas and how to implement them.  We really enjoyed the morning and especially enjoyed getting to meet one of the members of our PLN (Nadine) in person.  In fact, she is the one who took this picture!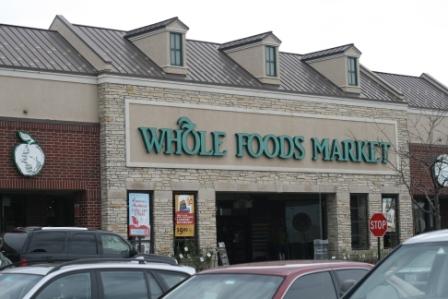 Mom and I usually like to go out to eat for lunch after our presentations as a way to reflect and enjoy one another's company.  Today we made a trek down the road to Whole Foods, the Mecca of healthy eating grocery stores.  I think I may have heard the Hallelujah Chorus play as I pulled into my parking spot (thanks again to that GPS for getting us there with NO problems!).  We did some shopping for things that I definitely can't get in Central IL and then had lunch in the cafe area where they have the best selection of hot and cold bar foods from which to choose.
workshops