Searching, Searching, Searching, Found…
Monday Morning Message ~ 8-29-2011
It's called "Digital Literacy"…
…and it saves time.
 Control+F.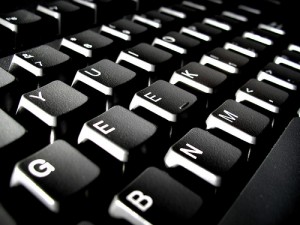 Everyone is desperate for more time, and I recently read that 90% of US net users don't know about this shortcut.
It's no secret that we pride ourselves in our "Geek-y" personalities,
and that we love to share little "Tips and Tricks" that we've learned working with hundreds of other "Geeks" like us.
This tip is a "Must-Know".
Whether you are working in a document such as Microsoft Word, or on the internet,
if you hold down the "Ctrl Key" and the "F" key, you will be prompted to enter the word you are seeking, and, once found, all words will be highlighted within the document or the webpage.
Quicker yet, while on the internet, just hit the F3 Key saving you one keystroke.
If you are working in "Firefox", the "Forward Slash Key" (  / ) will do the same thing.
With a little time and practice, you can learn shortcuts, and after teaching our students the basic functions of the digital world, we need to model and teach these "time-saving" steps more than ever.
If you missed an earlier post on shortcuts,
we invite you to read a March post "
Taking the Shortcuts
".
Make Monday count as the first day of the best week this year,
and remember to have fun!
tips