audioBoom with a Big Boom
Sunday Sit, Sip, and "Sync" ~ 10-12-2014
Yes. That is not a "typo".
If you have an "Audioboo" account, as of this past September,
they have a new name
and a new look.
No worries.
When you log in, you will find your "boo's" still online and enough changes that you won't be disappointed.
You still get ten free minutes of audio with each recording,
and you can share them with a QR code, image, and a shortened URL link that links to each of your audio files.
Check out the page specifically for "Educators".
There you will find examples of audioBoom in the classroom with the message that you can give your students a "voice".
In addition, you will find podcast resources and professional development tutorials.
When you visit the link for "widgets", you will find embed codes for your audio posts with design choices to fit your website or blog.
Finally, there's an app for that.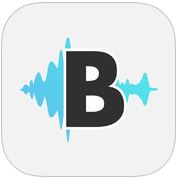 Free.
Download the app, allow access to your device microphone, and you will have the easiest way to create an audio file.
We hope you will experiment with this site and give your students a voice.
iPad
News
tips