Sunday Sit, Sip, and "Sync" ~ 3-11-2012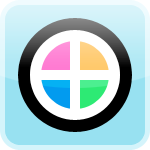 While formatting backgrounds and colors,
I want elements to match and compliment.
When opening up my color formatting options,
I'm directed to "More Colors…",
and I have the option to enter the coding to get the precise color I want.
One tool I have found to be invaluable is the
"Instant Eyedropper".
A free download, this little web tool quietly hangs out on my Windows Taskbar.
When I need to know the exact color of a pixel, I  just click on the icon
and drag it to the pixel. Once I have hovered over the pixel,
I release the "eyedropper",
and the color code is automatically copied to my clipboard.
Next, I just enter the code into my formatting options,
and I have the exact color I am looking for.
The color codes this tool supports are:
HTML

HEX

Delphi Hex

Visual Basic Hex

RGB

HSB
With this little tip, we hope your Sunday is filled with color…
the colors of spring, that is, with only nine days left until that day!