Yesterday Shannon and I presented at the 2009 East Central Illinois Technology Conference at Lake Land College in Mattoon, Illinois. We always enjoy this conference since this is one opportunity to see many of the new friends we have made through our workshops, as well as visit with many friends from the past to catch up on family, and to share pictures on our cell phones.
Our last session was also the final session of the day. 
The room was packed and I even gave away my chair for someone to use.
This was one of our favorite presentations requiring two computers, two sets of speakers, and two projectors. The biggest challenge of the hour:
maintaining internet access.
Shannon carries the delivery. She talks much faster than I do, and she is excellent at voice projection. (I understand these things. I had her in my 7th grade study hall once.)
My job was to show as many links as possible, and to throw in comments when she needed to take a breath.  I was down on my knees or squatting most of the time since my computer was on a low table, and the room was dark.
And then the question about…
inappropriate use of computers…and the expressed concern about students going where they shouldn't go.
This had my attention and both Shannon and I flew to reply,
"Teachers are the best filters." 
I have never stood up so fast in my life.
I almost flew over the table.
If I could have moved out into the audience and stood next to her "face-to-face", I would have.
I held myself back from saying,
"Teachers need to quit grading papers when they take their students to the lab."
We are passionate on this subject. We actually did a "Guest Post" on a famous blog.
And people left comments!
Our goal is to motivate teachers to use technology.
The schools are asking us to use technology.
The schools want us to use 21st Century tools.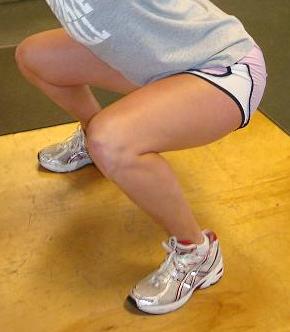 But the schools don't always give us those tools.
Or allow us to use those tools.
And when they do, either because they haven't noticed that we are using them, or because they have finally seen the value, we need to teach responsibly.
We need to monitor our students…
and we need to educate ourselves.
Today?
I'm a little sore…
Squats in heels are a little rough on the quads!