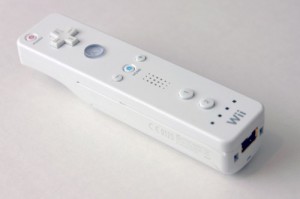 Ok…I was curious.  I have seen the YouTube video of Johnny Lee.  I have had a SMARTBoard in my classroom for 4 years.  I know about school budget crunches.  All three of those reasons combined led Mom and me to attend  a session at the East Central IL Tech Conference on Friday entitled "Interactive Whiteboard (aka "SMARTBoard") for <$100″.
It seems like this $100 Wii IWB thing is really starting to become a reality.  There are quite a few places online where you can purchase the light pens, as well as accessories for the Wii Remote to make it stand on a tripod as a functional piece of classroom equipment.  Software is available as a free download to get your computer compatible with the hardware.
Any surface can be transformed into an IWB. 
Even a table top. 
And with Multi-touch capabilities if you have more than one light pen. 
Wow…the opportunity to have a multi-touch table in my classroom in 2009?
Well…I have to admit.  I was less than thrilled with the functionality of the Wii IWB as a suitable means within a classroom. 
Sure, it would work….if you were using your IWB as a game board, or to write and wipe. 
But I think there are many folks who are beyond the "glorified whiteboard" idea.  At least we hope they are.  And if they aren't?  Well, we can certainly help with that!
We have a multitude of ways that the SMARTBoard can be used within the educational setting from small individualized center activities, to whole group lessons, to alternative assessment tools, to differentiated instruction. 
I could never go back to teaching without my board.  Ever!