Winky Think Logic Puzzles
Sunday Sit, Sip, and "Sync" ~ 12-14-2014
This week I received an invitation to try out Spinlight Studio's newest app, "Winky Think".
Uhhh…Spinlight Studio?
Yes, please.
I immediately downloaded the app and worked through the first 80 levels.  Yep…hooked.
When I took a break (a.k.a. pried myself away from the game) to make dinner, I caught my 13-year-old daughter continuing on through another 40 levels while listening to her say, "Ooohhh…I like this level….this one is cool!"
Well done Spinlight Studio, to impress a 13-year-old social media/video game/app connoisseur.
(Side note: there are 180 levels in all.)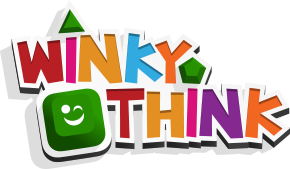 "Winky Think" is a logic app that begins with very basic puzzles for the youngest of users. Don't be fooled though; the levels build upon each other to provide increasingly difficult puzzles for kids who like a good challenge. And the multi-touch feature throws in a layer of complexity that is fantastic. Especially if, as a teacher, you use iPads in small groups.
The former math teacher in me not only loves the use of logic in this app, I appreciate the integration of nicely designed polygons for the reinforcement of shapes and colors. Perfect for early childhood students all the way up into the intermediate grades!
I also value the place of this app to meet Common Core standards. I know…blah blah blah. But really, if you know anything about the Common Core standards, you know the need for students to persevere through problems. This is the perfect app to model this skill. Heck, who am I kidding? Perseverance is really the key to pretty much any life skill, not just a skill coined by the Common Core folks. I would post some CCSS that this app supports, but really, who wants to read that on a Sunday morning Sit and Sip?  Not us!
Ok…maybe just one.
CCSS.MATH.PRACTICE.MP1 Make sense of problems and persevere in solving them.
Done. And again, DONE. I promise I am done talking about standards!
As many of you know, Mom and I are BIG fans of this app designer. We originally reviewed "Table Tots" which you can read about over here.
It's still one of our all-time favorite "teaching" apps.
We continue to love every app they have launched.
And RIGHT NOW they are having a launch sale.  That's right A SALE.
Head over to their site and check out all their apps on sale right now for only $0.99.
I would, but we already own them all. And believe me, we paid more than $0.99 for them.  Totally worth it!
Even better yet…ask the parents of your students to gift these apps to your classroom iPads.
Much better than lotion and coffee mugs. 😉
(Mom and I do not receive any compensation for our reviews.  We just like to share things we love with all of you.  And we LOVE Spinlight Studio!)
[Tweet "Today's tip features Winky Think Logic Puzzles, the latest app from Spinlight Studio. 180 challenging puzzles…"]
app
App Review
tips