Collaborating with Stixy
Sunday Sit, Sip, and "Sync" ~ 10-21-2012
We've talked about "Wall Wisher" and "Linoit",
and now we're here to present yet another "wall" that is very useful for collaborating and sharing.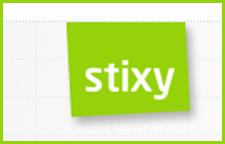 Stixy.com has even more options than what we've described in the other "walls",
and we love the ease that it allows in sharing.
To quickly sum up your "Stixy Experience",
I'll just quote from the "Welcome Email" I received after making a free account.
From Stixy:
"Here are a few examples on how you may choose to use Stixy.

Keep track of your family's schedule.
Collaborate and share in projects at work.
Gather online research; images, links, screenshots etc.
Organize an upcoming holiday with your friends.
Share photos from your last bike trip.

But it is really up to you as to how you want to use Stixy."

Only you, your needs and imagination, set the limits."
Once again, "FREE".
Yup.
We love "free".

I've created a "Stixy Wall" this morning,
and we invite you to visit it and leave us a "note" in the form of a photo, a short "to-do list" of what you want to accomplish today, or even a note suggesting how you might use "Stixy" in your life.
classroom management
tips
writing