Sunday Sit, Sip, and "Sync" ~ March 22, 2015
We are finding more and more of our teachers are adopting the use of QR codes to direct their students to resources and activities. If you are using Mozilla Firefox as your browser, there is a little add-on that can speed up generating your QR codes. By enabling the add-on, "QR Code Image Generator" by webdevmedia, you only have to right-click and scroll down to find your generator. This add-on will allow you to make QR codes of the current URL, selected text, or "free text".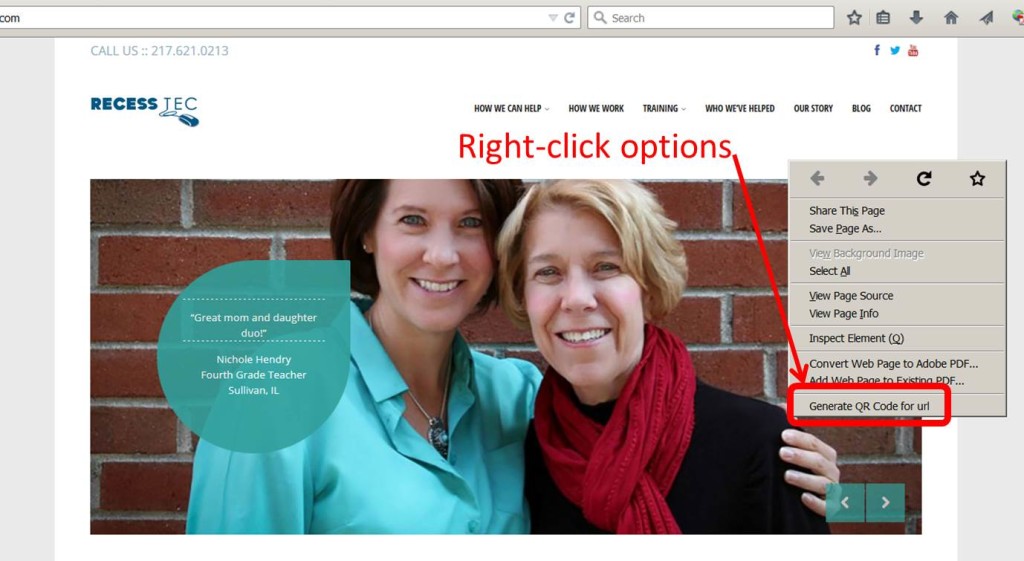 It also works offline.
If you prefer shortcut keys, just press CTRL-SHIFT-Q. 
You no longer have to search for QR code generators or go to your bookmarks.
I took a substituting job last week, and the teacher had developed an activity for a math center. After students completed a worksheet on fractions, they used their iPods to check their answers using the QR codes next to each problem. Who doesn't love to see the "fist pumps" and to hear whispered, "Yeses!" when our students scan the codes that lead them to a correct answer?
Just another way technology can motivate students to learn.
NOTE:
Oh, and I looked up the spelling of the plural form of "yes" and learned from several sites that either "yeses" or "yesses" are acceptable.
And the plural form of "no"? That would be"noes".
Have a great week!
[Tweet "With this Mozilla Firefox add-on, generate QR codes quickly within your browser and while working offline."]