Are you tired of being the person who's supposed to know everything?
As an educational IT support specialist, you wear a zillion hats. Unfortunately, being in a technology leadership position makes it easy for people to assume that you're the person who "has all the answers."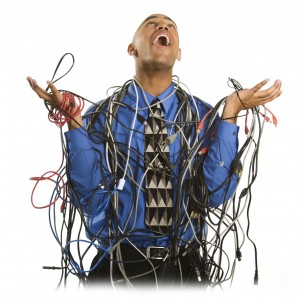 Say your administration informs you they've received board approval for new SMARTBoards and six classroom sets of iPads. Plus, a very generous service group has donated 25 "new" computers. For you, that means every single second is wrapped up in adopting them into your district and making sure the network can support them.
You're the champion of putting out technology fires, creating usage policies, policing the network, and providing hands-on training. You might even be tasked with long-term professional development planning. All of these things can be the most exciting (and the most frustrating) aspects of being an instructional technology coordinator.
It's hard to educate people about technology. We know.
Learning how to identify, create, and offer relevant professional learning opportunities can be extremely challenging. Whether you're working with individual teachers or running large-scale professional learning sessions, we all know adult learners are just as diverse as young student learners. Everyone has a different style and speed at which they learn.
Every day, it seems like you're taking on new responsibilities handed down from the state and your district. As you set up new classroom devices, teachers stop you in the halls to ask basic questions about the new technologies. Their questions are easy to answer, but you have to wonder: How do they not know this stuff? You don't have the time to explain, nor do you know how to help them when they seem to be missing obvious background knowledge.
You need someone who understands tech and can speak on a teacher's level.
We can help. Recess TEC offers a no-nonsense approach to help technology specialists bridge the gap between classroom technology and education requirements.
We understand what it takes and how much patience is required to support and train such a diverse group of technology users.
Why?
We're teachers ourselves, but we're also very familiar with tech. In fact, one of our founders has years of experience as a hands-on school "Technology Coordinator," responsible for all technology data requirements issued by the State of Illinois. She's also been "the go-to person" for the IT network engineers and computer technicians who maintain, repair, and troubleshoot all technology assets.
We offer an energetic, down-to-earth, "teachers-teaching-teachers" approach that breaks down every aspect of technology instruction into fun and simple hands-on learning experiences. We speak and understand the language of your staff and bridge the technology gaps between your teachers and IT personnel. (Think computers for dummies, a Coke and a smile.)
We're here to help teachers at all levels simplify and maximize the use of technology in the classroom. It's all about making your teachers' lives easier and ensuring their students have the biggest chance for success.
Our knowledge is always current because we're obsessed with constantly refining our curriculum. Every year, we attend and present at the top local, national, and international conferences to keep ourselves sharp and thinking progressively. Then, we pass that knowledge on to you and your teachers.
Most importantly, the entire staff becomes the center of the training. As we get to know them better and continue working with your school, we'll tailor our approach to complement your local classrooms.
If you're ready to:
Offload constant questions from teachers and staff members
Establish clear goals for your students' technology skill development
Pinpoint educational problems and decide what new technology can address them
Put a plan in place to start using low- and no-cost technology tools to solve educational challenges
Improve your technology adoption rate and eliminate outdated or unnecessary technology
Maximize every technology dollar in your budget
Get in touch!