In a word, we're flexible!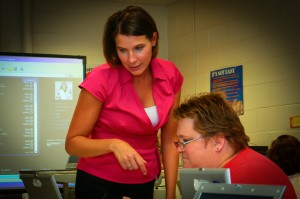 As teachers, we know flexibility. It's the only thing that keeps us sane in the classroom. Therefore, it's only natural that our services are flexible.
Before we begin working with you, we take some time to understand your goals.
Do you..
Want a hands-on session for your teachers in a "try-it" type of setting?
Already know how to use the technology, but need ideas for integration?
Have a large staff at various levels of skill? Do you need to motivate them to want to use technology on a day-to-day basis?
Let us know your goals, how many teachers you need trained, and how much time you want to dedicate to the process. Then, we can get started.
If you're not sure how to answer those questions, that's completely OK! We can talk through your challenges together and determine the best ways to meet your needs. We're here to help you every step of the way.
Flexible Learning Programs
Want a motivational, keynote-style presentation for your entire staff? We can do that.
How about some breakout sessions to meet the needs of various learners? We've got you covered.
Need some small group assistance for intense curricular technology tie-ins? You betcha.
We are happy to customize your training to fit the needs of your students' styles of learning, your teachers' styles of delivery, and your school- and district-wide technology integration goals. It's our goal to show your staff that technology can be a seamless piece of the school day, not just "one more thing to teach."
Flexible Billing Options
Do you need flexible billing options to meet the needs of your bookkeeper's fiscal responsibilities? No problem. We understand the workflow for school finances and can ease the burden for your accounts payable department.
Contact us today to get a quote for customized training for your school!