Do you feel like you're drowning in the ocean of "too much to do"?
Being an instructor is tough.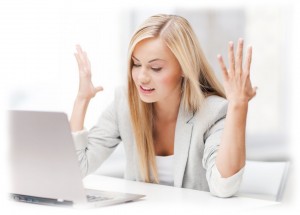 Whether you're a K-12 or higher-ed instructor, your #1 job is to equip students with the skills and knowledge they need to be successful.
If only it were that simple.
Every day is jam-packed with curriculum, student testing, online assessments, and individualized instruction, while nights and weekends are spent grading homework, developing lesson plans, and playing catch-up.
On top of this, you constantly deal with disabling changes to district, state, and federal mandates. As soon as you think everything is running smoothly — Bam! — you're hit with something new.
To you, taking a professional day means working double-time to write detailed lesson plans for your substitute (including a quiz or reviews, because you know you're the only one that can best teach your students), and when you get back, you have to pick up all the pieces.
Then, out of the blue, you get an unexpected email. Your administrator lets you know your next few days will include class observations and evaluations using technology — and you need to attend a mandatory new technology training.
With everything going on in your world, you don't have time to learn about new technology.
At the training, you discover that the school has invested heavily in the latest technology. They want to make sure you know how to use it so you and your students can get the most out of it.
Right about now, the last thing you want to do is sit through another series of lame professional development workshops, led by someone who has never been in a classroom, has never walked in your shoes, and frankly, doesn't get it.
These are the people who talk over your head in "geek speak," using big words like "bandwidth," "Ethernet," and "RAM" while assuming you understand everything they're saying.
They show you a bunch of boring presentations, feed you lunch, and put you to sleep. They offer no way to "try" what they are presenting — instead, they send you home with a stack of handouts hoping you'll figure it all out later when you get back to a computer.
And how about a call to tech support? Uh, yeah right — the only support you have is from your undergarments.
We know what you're dealing with.
We understand what makes a teacher's life easier, both in and out of the classroom.
Why?
We're teachers ourselves — combined, we have more than 50 years of classroom teaching experience. We know what engages students and how to motivate your classrooms at all levels of learning.
We also know how frustrating it can be to keep up with technology requirements. That's why we developed an energetic, down-to-earth, "teachers-teaching-teachers" approach to technology. Our sessions break down every aspect of technology instruction into fun and simple hands-on learning experiences. (Think construction paper and crayons for grown-ups.)
We're here to help instructors at all levels simplify and maximize the use of technology in the classroom. It's all about making your life easier and ensuring your students have the biggest chance for success.
We, too, believe in optimum classroom sizes, so we limit our sessions to 20 participants.
This allows us to pace the training to your needs, not ours. We use language you understand and provide you with the perfectly paced, hands-on learning you deserve.
We're obsessed with constantly refining our curriculum. Every year, we attend and present at local, national, and international conferences to keep ourselves sharp and thinking progressively. Then, we pass that knowledge on to you.
Most importantly, you become the center of the training. As we get to know you better and continue working with your school, we'll even custom-tailor our approach to complement the curriculum learning standards used in your local classrooms.
If you're ready to:
Stop being intimidated by technology
Free up more time to accomplish classroom objectives
Prepare your students for a tech-centric world
Get your students excited about learning
Actually have fun with professional development
Get in touch!