Do you ever feel like your students aren't as engaged or interested as they could be?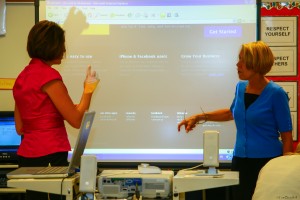 Integrating online tools into your lesson plans can make learning more fun for everyone — and it doesn't have to be difficult, expensive, or confusing.
As teachers ourselves, we've been using dozens of online tools for years, and can show you the best ways to implement them in your class.
From interactive games to classroom management and presentation tools, we'll show you simple, convenient ways to shake things up.
And yes, most of them are free!
In this session, we'll count down 10 ways to integrate technology into the Common Core Standards. Kill two birds with one stone — have fun and motivate your students to succeed. You'll discover free websites and apps to support RTI and curriculum mapping, plus "bonus" sites to help you collaborate with other teachers and manage common assessments.
*Presentation or hands-on
Didn't get enough of the Common Core Countdown? Learn 10 additional ways to integrate technology into the Common Core Standards. You'll discover even more free websites and apps to support RTI and curriculum mapping. Plus, we'll show you example lesson plans that align with Common Core.
*Presentation or hands-on
Google Workshops
In 2018, Shannon has taken the coursework and has earned certification as:
Google Level 1 & 2 Certified Educator
Google Certified Trainer
Are you ready to take your classroom to the Internet? If you've always wanted a website, but feel overwhelmed by HTML codes and "geek speak," this is the session for you! We'll help you set up a free web page without a school server or tech coordinator. If you can edit a document, you can create a simple website during this session. The only thing you'll need is access to your email on the web.
*Hands-on
Have you always wanted your own website, but thought it was just too difficult to create on your own? Do you have a website started, but just haven't had a chance to finish it? Are you stuck deciding what to put on your pages? By creating a website for your students and their parents to access, you can create a 24/7 learning environment — and we can help! If you attended our EZ Web Design class and would like more ideas or follow-up support, or if you'd like to jump in and get started with a new website, join us for this completely hands-on workshop. The only thing you'll need for this session is access to your email on the web.
*Hands-on