TeacherTipster.com
Sunday Sit, Sip, and "Sync" ~ 11-2-2014
This is a tip about tips.
A lot of tips.
"Hey, guys. Mr. Smith here…"
Dustin Smith is a first grade teacher at Woodrow Cummins Elementary School in Conway, Arkansas with over ten years of teaching experience.
He comes from a family of teachers,
but started out working towards a degree in telecommunications.
Teaching wasn't the original plan.
We know how that goes.
But what we don't know is how "Mr. Smith" has escaped us all these years,
We promise there is something here for everyone.
We are the latest fans of his YouTube channel, TeacherTipster.com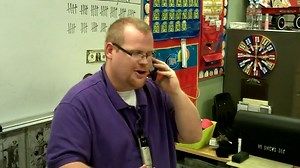 We know.
He teaches First Grade.
And you might be thinking, "How is this going to help me, the high school calculus teacher?"
Again, we promise you, there is something here for everyone.
You will find tips that will add, not only fun, but some practical and motivating management tools to your classroom.
Don't skip the comments.
His fans often share their own ideas and tips.
One of  the best comments on one such video was, "Are you married?"
Yes, he is married to Miss Suzy, as you will learn in "Fruit for You".
And the "technology" part?
Mr. Smith's TeacherTipster.com videos are great examples of what you can do to enhance your curriculum, share your lessons, and hopefully motivate you and your students to produce your own instructional videos.
He has a website with even more tips,
and if you scroll down to the bottom of his home page, you'll see that he has developed several apps.
There is a Teacher Tipster Pinterest Page,
and you can follow TeacherTipster.com and Mr. Smith on Twitter,
If nothing else, just watch Mr. Smith's videos for pure entertainment.
His love of kids and teaching is contagious.
And it doesn't hurt to catch some of that love before you head back to your classroom on Monday morning.
He is a teacher few kids could ever forget…
[Tweet "We are the latest fans of the YouTube channel, TeacherTipster.com."]
classroom management
tips