Sunday Sit, Sip, and "Sync" ~ April 12, 2015
"You read and write and sing and experience, thinking that one day these things will build the character you admire to live as. You love and lose and bleed best you can, to the extreme, hoping that one day the world will read you like the poem you want to be."
~~Charlotte Eriksson
On March 27th, one of our favorite Facebook pages, Humans of New York (HONY) posted a short piece about StoryCorps. The founder of HONY, Brandon Stanton is both the photographer and the author behind HONY, and it's Brandon's thought-provoking questions that encourage and enable people to share their very private and personal stories. The comments and the support of the viewers of this page add to its overwhelming popularity. Brandon is now encouraging people, especially teachers and family members, to use StoryCorps to record conversations and memories to add to this oral history project.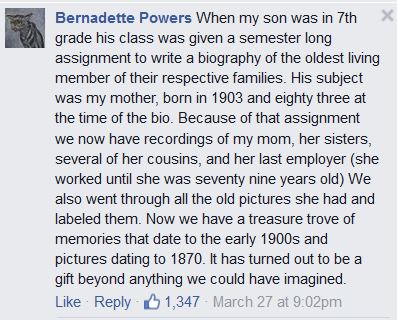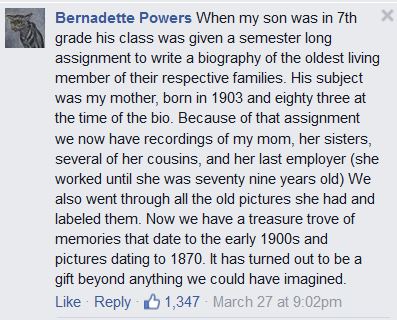 Dave Isay is the founder of StoryCorps, and his TED Talk can be viewed here. Listening to his TED talk will educate you about the history behind StoryCorps and its importance.
What is StoryCorps? From their About Page:
"StoryCorps is one of the largest oral history projects of its kind. Since 2003, StoryCorps has collected and archived more than 50,000 interviews from more than 80,000 participants. Each conversation is recorded on a free CD to share, and is preserved at the American Folklife Center at the Library of Congress."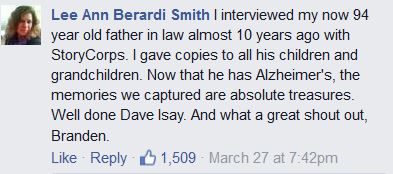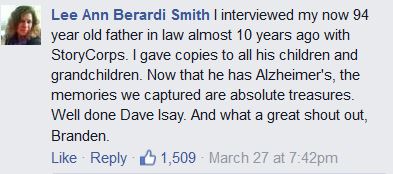 Please take the time to visit the StoryCorps website and consider downloading their app to help collect your stories. Start with their "Login Page" to create an account, and you can upload an audio file with an image from their website. We have found creating an account online helps facilitate the login process on the app.

Enjoy!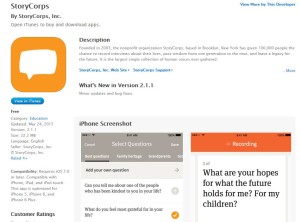 [Tweet "With the newly released StoryCorps app, it is now easier to share memories and personal stories."]
As an added note, here is a little more about the "man behind HONY":